The Maintenance & Capital Replacement Committee
was established February of 2017. The Committee creates and implements plans for submission to the Board to maintain the facilities, structures, amenities, tools and grounds of the LS HOA Common Areas as defined in the Covenants, Conditions and Restrictions of the Lacamas Shores Homeowners' Association. The Committee manages the personnel, employees and/or volunteers efforts engaged in each project.
See charter here.
If you would like to help, please volunteer by emailing the Board of Directors at Board@LacamasShoresHOA.org.
---
The Current Reserve Study (as of FY 2018)
​
In 2017, the
Lacamas
Shores HOA hired a professional advisor to help prepare an updated reserve study per
RCW 64.38.065. The Board selected the
"Component Funding Model" and accordingly the study shows the association being 90.82% funded at the end of the 2018 Fiscal Year. This is considered to be in the top funding grade of "good" (i.e., between 70-100% funded, per page 26). See the
2018 Reserve Study here
.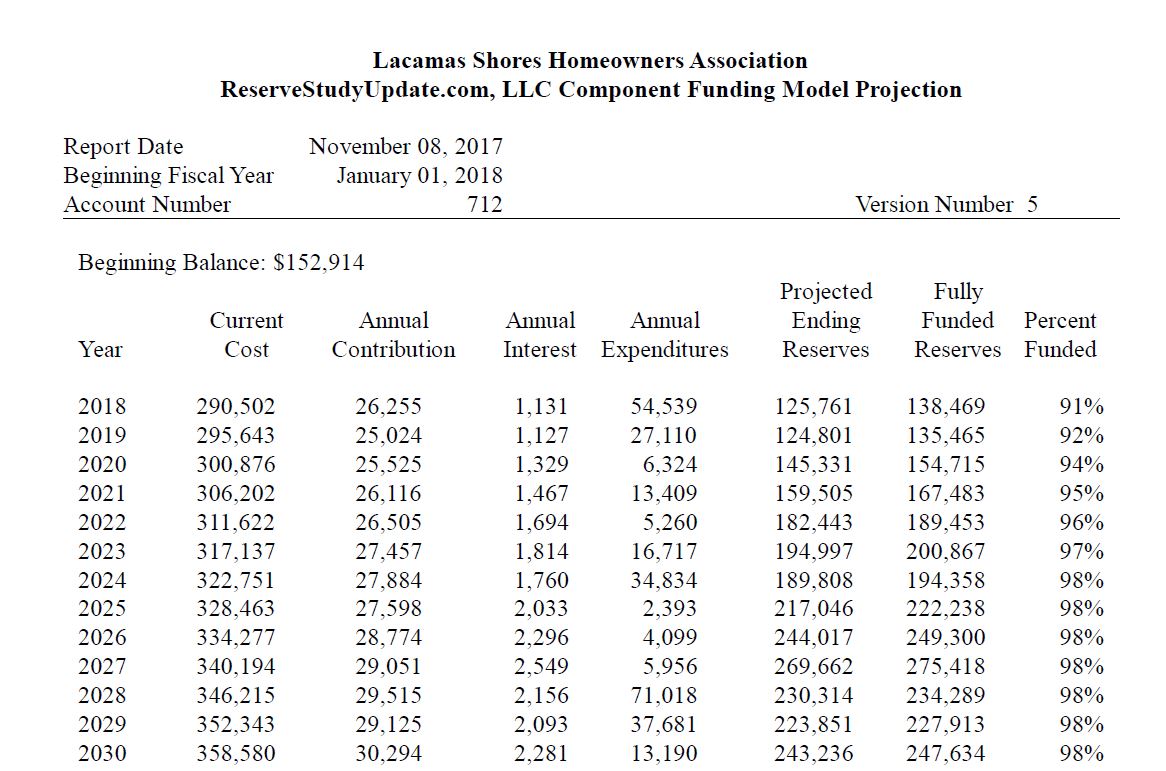 Note that the study states "This reserve analysis study is provided as an aid for planning purposes and not as an accounting tool."
​
​2017 Meadowlands Stormwater Filtration Area - Land Clearing Bids Information
In 2017, the CALU Committee researched the potential cost to clear the deciduous trees from the HOA's Meadowlands Stormwater Filtration Area. Click
here
for the pdf of the bids.